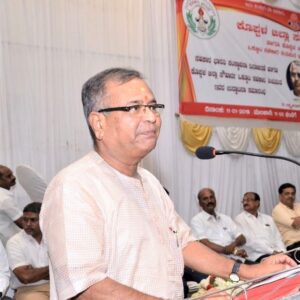 Shri Ramesh vaidya is a prominent social and political activist of Karnataka, Who shot into prominence during the 70s. He is staunch nationalist and down to earth agriculturalist, hailing from Hitnal a remote village in Koppal, District.
His social life, spanning more than 4 decades, is a fine example of how a person can turn to a challenging Co-operative moment after blossoming in relatively prominent Political activity. This is unlike many Politicians of today, who have shifted from Co-operative movement to Politics!
Phase I: Political activism
Soon after his graduation he plunged into active socio-political life by Joining Bharatiya Janasangh and became secretary, Koppal BJS. He was instrumental in making BJS a force reckon with in erstwhile Hyderabad Karnataka.
When the nation came out of shadows of emergency in 1977, Shri Ramesh Vaidya became the Raichur district general secretary of Janata party Yuva Morcha. Later, He Joined BJP and served as state General secretary BJP Yuva Morcha. He also held responsibility as Raichur district BJP general secretary, Member of Karnataka state executive committee.
Phase II: Cooperative Pragmatism
During 80's, the emerging social dimensions drove Shri Ramesh Vaidya towards Cooperative moment. It was quite natural from him to join Sahakar Bharati, The premier organization spearheading the cooperative movement. He felt immensely satisfied in organizing farmers to establish a strong Cooperative movement in Karnataka.
From being the Secretary of Karnataka Sugar cane grower's Sangh, he has been actively participating in various Cooperative organizations, be it regional or national and has contributed to all ground well fare of farmer community in Karnataka.
During 1981 – 1983 served as President of PACS Egalkera and the Vice president of District Cooperative union of Raichur District.
During 2004 – 2009 he was an AGM member of IFFCO, The premier national Cooperative organization. He was RGB member 2009 – 2014.
Shri Ramesh Vaidya was director on the board of Raichur District Central Cooperative bank during 1999 – 2016. Since 2004 he served as VP Raichur District Central Cooperative bank.
He was a founder member of the Koppal District Horticulture Cooperative society, formed in the year 2008. Nominated as director of Karnataka Horticulture federation the same year. Elected as director of District Horticulture Cooperative in the year 2014 May for Koppal district. Also he is elected as director of Karnataka Horticulture Federation for period 2014 – 2019.
He is on board of Koppal District Agricultural Marketing Society from 1999 till date.
He also served as member of ICAR, New Delhi during 2003 – 2006, representing rural development sector.
Sahakarabharati : Building a responsible Cooperative movement
Shri Ramesh vaidya has been an active worker of Sahakarabharati. He presently holds the responsibility of All India Pampark Pramukh at Sahakarabharati. He also worked as All India Secretary and Joint Organizing secretary for All India Primary Agricultural society cell of Sahakarabharati.
Apart from field experience which has enriched Shri Ramesh Vaidya's insight into the nuances of social development, he is also exposed to number of academic trainings and seminars: Following are most important ones
Certification on Self Help Groups (SHG) from NABARD
Training at Vaikunta Bhai Mehta International Institute of Cooperation Pune, On Cooperative Governance.
India – Africa Cooperation for sustainable food security conference in New Delhi. (Where he presented a paper on Cooperative moment in Karnataka).
On Invitation from Japans leading Cooperative organization JA-ZENCHU, He visited Japan representing IFFCO, on knowledge and best practices sharing mission.
Awards and accolades
Shreshta Sahakari Award : 2007
Shri Ramesh Vaidya received Shreshta Sahakari Award from Government of Karnataka in 2007. Shri. H.D Kumaraswamy, the Hon'ble Chief Minister, gave this award in Mysore.
Sahakara Ratna Award : 2008
In 2008 , he was awarded the coveted Sahakara Ratna Award by Government of Karnataka, which was bestowed on him by Shri B.S. Yeddyurappa, Hon'ble Chief Minister at a function held in Shimoga.
Local participation
Though Shri Ramesh Vaidya's activity has spread across the state and beyond, he strongly believes in grass root participation.
He is the Managing Committee member of Gurukula Vidya Kendra, a National awardee Institute in Kukanoor, Koppal District.
He is serving President of Huligemma Temple Trust, Huligi. One of Karnatakas important holy places.
Personal details
Shri Ramesh Vaidya was born on 8th July 1950, to the family of traditional agriculturists Shri Dattam Bhat Vaidya and Kamala Bai.
He is married to Smt.Parimala Vaidya and is blessed with two sons, Mahesh Vaidya and Harish Vaidya.
He is an experienced agriculturist who grows sugarcane, paddy, hybrid maize and groundnut.
Thus, Shri Ramesh Vaidya has acquired vast knowledge of the intricate aspects of social development. His administrative abilities, Cooperative insights and agricultural experience have made him a rare personality, who can take on any challenging societal task.
---
Address: No.165, Padamama, 1 4th
Main, 28th Cross, BSK 2nd Stage,
Banglore-560070
State Karnataka
Tel-R 080-26716853, 08539-274726
Mobile09448194726
email– [email protected]
Education – Bachelor of Science, from P.C Jobin Science College, Hubli in year 1972