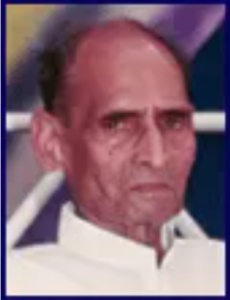 Late Madhavrao alias Annasaheb Godbole, BA, LLB was born on the 27th March 1905 in Islampur, Dist. Sangli, to a humble yet cultured family. In his childhood he faced dire conditions and completed educatio fighting against all odds. High moral, cultural and social values were imbibed in him in early childhood. It was very natural for him to take up social cause and serve society ceaselessly. He dedicated his life to social cause as a worker of Rashtriya Swayamsevak Sangh (RSS). He has a distinction of being elected as the first MLA on the ticket of then Jansangh and now BJP.
His contribution towards development of co-operative movement, especially in urban co-operative sector, was right from grass root was commendable. In 1935 during British Raj period, to serve common Indian, locals he established Sangli Urban Bank in Sangli and worked for development of this Bank till his last breath.
Development and progress, penetration of urban co-operative movement in every segment of society, establishing more and more urban co-operative banks was his single-minded focus. He inspired, encouraged, helped & guided establishment of various banks. Pune Janata Sahakari Bank, Pune Janaseva Bank, Bhagyalaxmi Bank, Nanded are few of the list.
He strongly believed that co-operative movement is highly potent movement and can be used for the benefits of masses. He stressed that intellectual, top-notch professional, quality people should join co-operative movement for it to flourish. To achieve this aim, he established Sahakar Bharati, an institute that very recently celebrated silver jubilee.
The movement that was stated on a very small scale, has spread all over the state has gained support and sanction from every segment of the society. Today we can our social fabric is incomplete without co-operative societies.
Work of Late Madhavrao alias Annasaheb Godbole was not limited to urban co-operative banking sector only. He inspired establishment gave impetus to development of various institutes like district central banks, Maharashtra state co-operative bank, various farmer's co-operative organizations etc. He was associated with a specturm of organizations in various capacities. A lawyer by profession, he was a visionary, a thinker, a warm-hearted worker, eminent scholar, a loving family man and a father-figure. He was a power-house of strength for many organizations as well as individuals. He shouldered multiple responsibilities with equal skill, dedication and strength.
As an expression of gratitude and a tribute to his work, an award – 'Late Madhavrao Godbole Memorial Award' has been instituted to be given to an eminent personality forn his/her extraordinary contribution towards co-operative sector. The award is given by Sahakar Bharati.